Thanksgiving has come and gone but Christmas is right around the corner and the holiday season is very much alive.
When you think of Christmas time many things may come to mind, but
it's been a tradition for countless years to light everything up and Kansas City has some of the most beautiful displays you can see!
Here are a few places you can check out some truly magical light displays!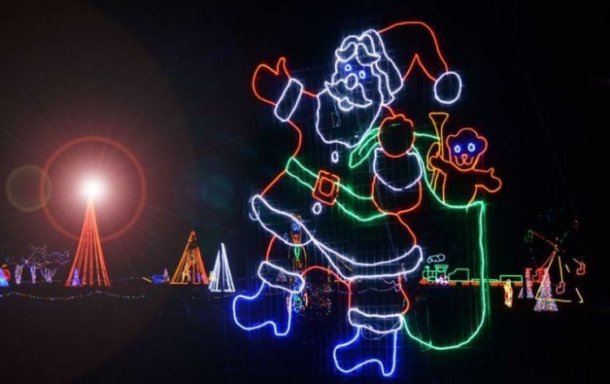 Join Lee's Summit for their 32 annual Christmas in the Park! Located at Longview Park, there are more than 500,000 lights and 175 animated figures. The park is open to drive through on Sunday - Thursday from 5:30 - 10:00 pm and Friday - Saturday from 5:30 - 11:00 pm.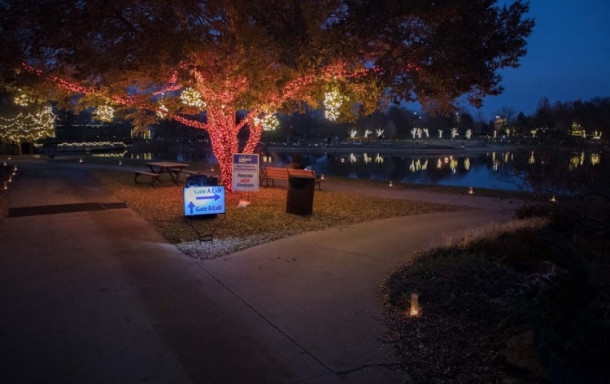 The 20th annual Luminary Walk, located at the Overland Park Arboretum & Botanical Gardens, is presented by FNBO, Westlake Ace Hardware, and Sarin Energy Solutions. There are candle-lit pathways that guide you through the beautiful garden while the tree's & bridges are brightened up with holiday lights. Santa will be there as well, along with horse drawn carriage rides, gnome & fairy villages, and so much more! For more information, click here.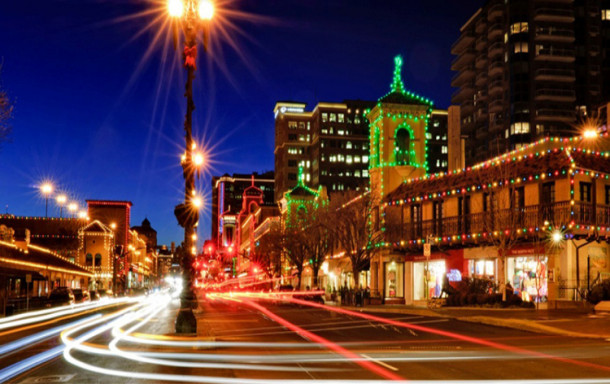 The Country Club Plaza Lights has been a local tradition for over 90 years. It's a 15-block magical display of holiday lights that are on 5:30 pm - 3:00 am from Thanksgiving - mid January.
A Kansas City Christmas MUST DO:
Crown Center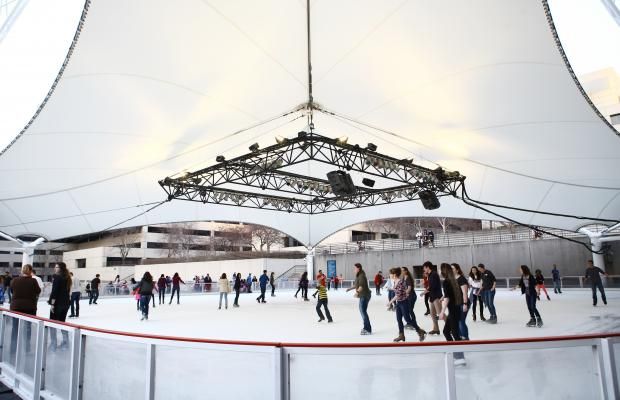 One of the main attractions at Crown Center is their ice skating rink! They are open from November to mid-March. You can skate for 1-2 hours depending on what ticket you buy. For more information on the Crown Center Ice Terrace, click here.
Attractions:
Crown Center has many more family friendly attractions including the SEA LIFE City Aquarium, LEGOLAND Discovery Center, the Hallmark Visitors Center, and Kaleidoscope!
Theaters:
Crown Center also has fantastic live theatres that bring stories to life. Two of them are nationally recognized - Coterie Theatre & MTH Theatre! Crown Center's newest addition to live performances is the Sensatia, Cirque Cabaret at the Quixotic Theatre.
Events:
Crown Center has numerous amounts of Christmas shows & events all throughout November and December. The shows don't stop after the holiday's though! To check out the event schedule, click here.
The dining at Crown Center ranges from fast casual to full service, with an option for everybody. Whatever you decide, you will not be disappointed.
Crown Center doesn't have your average run of the mill shopping. You'll love all of the unique finds at these locally owned shops! Crown Center is a one of a kind place, so your shopping experience will be too.
When it comes to hotels, you don't need stay in a hotel NEAR Crown Center. You can stay in a hotel AT Crown Center. Home of the Westin Kansas City & Sheraton Kansas City, Crown Center welcomes you to stay!
A Few "Preparing for Christmas Dinner" Tips
1. Organization
The most important thing you can do leading up to Christmas is make sure you have everything you need to make your dinner. From the turkey, ham, potatoes, pies, and anything else you are going to make, to oil, seasonings, and pots and pans. Make a list and check it twice! If you get this done early, you won't be worrying if you have everything you need to make your dinner. This will also help you avoid a last minute dash into a busy supermarket.
2. Brine Your Turkey Early
Turkey is a lean meat, which means it can dry out quickly. Brine your turkey for about 12 hours before popping it in the oven. This will allow the turkey to absorb extra moisture, keeping it fresh and juicy. The brining liquor will also help season the meat. Click here for instructions on how to brine a turkey.
3. Prep What You Can Ahead of Time
Going along with brining your turkey ahead of time, it's also a good idea to prepare what you can ahead of time. If you have the time the night before, peeling potatoes, carrots, parsnips, and any other veggie you're going to cook will save you a lot of time the next day. If there is room in your fridge, you can also go a step further and cook your veggies and store them for later.
4. Make A Schedule of Events
With this being a very busy day, it's a good idea to make a schedule ahead of time, especially if you're hosting a big friends and family Christmas holiday. You can put down what dish is supposed to get cooked when, who needs to help with what, how the day is going to be played out, etc. This will help take some of the stress out of a day that should be focused on enjoying everyone's company.
5. Get The Family Involved
The holiday season is about spending quality time with your loved ones. Getting everyone involved in the kitchen can be a fun way to spend that quality time together.