The History of Kansas City Barbecue
Kansas City is loved for many reasons, one of them being for its famous barbecue. But what makes Kansas City barbecue so good? There's rich history behind its tastiness. There was a main event that really set Kansas City barbecue into motion. The historic opening of the Hannibal Bridge (the first permanent railroad bridge to cross the Missouri River) on July 3, 1869 was celebrated by Kansas Citians with a parade followed by a barbecue attended by over 3,000 KC natives. Back then, a barbecue was the easiest way to feed a large group of people.
Thanks to the city's stockyards, meat was relatively cheap and plentiful. Many freed slaves left the deep south after the Civil War, and Kansas City was a popular relocation destination because of the jobs it offered. It had a thriving river, rail hub, and a dominate meatpacking industry. These new residents brought with them their culinary traditions. This mixed with the city's love of barbecue created a demand bound for profit.
So what is different about Kansas City style barbecue compared to the other popular types? (Memphis, Texas, Carolina)
For starters, dry-rubbed barbecue drizzled in tomato-molasses sauce was originated in Kansas City. Kansas City is also known for adding their yummy sauces onto a range of meats (pulled pork, pork ribs, burnt ends, smoked sausage, beef brisket, beef ribs, smoked or grilled chicken, smoked turkey, lamb ribs, and fish), veggies and even fruits.
The shining star of KC barbecue are the burnt ends. These used to be seen as the throwaway part of a brisket, but perfecting them is another main reason Kansas City barbecue stands out amongst the others.
Joe's Kansas City BBQ is one of the original BBQ joints that you can't miss out on. It is a must go-to to set the tone for all other BBQ restaurants you go to. Not only is the history behind Joe's a fascinating, yet simply & ordinary one, the food and atmosphere is near indescribable! They have all of the originals such as brisket and burnt ends, but they also have fan favorite originals such as the Z Man.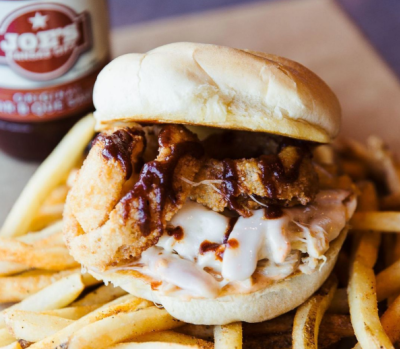 The first ever Gates was opened in 1946 by George W. Gates and it is located on 19th & Vine. It is the first location of the now thriving BBQ chain known as "Gates Barb-B-Q". People throughout the metropolitan area became loyal customers for good reason. Everything here is mouthwatering - from their meats to their sides & everything in between.
Woodyard is located in Kansas City, KS and serves up some of the best barbecue in the area! They are also Kansas City's most dog-friendly barbecue restaurant - they have a fully enclosed, double gated dog park called the "Woofyard" next to their restaurant. Woodyard was also featured on Guy Fieri's "Diners, Drive-In's & Dives", Anthony Bourdain's "No Reservations", and Andrew Zimmern's "Delicious Destinations".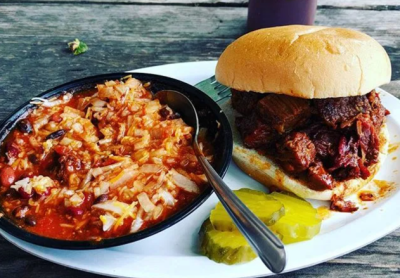 Brobecks is known for their expertly smoked meats. They use their special rub recipe on all of their meats, smoke them and serve them dry (no sauce). They do offer a variety of sauces, however, including local favorites!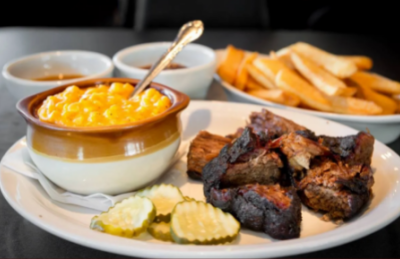 Jack Stack Barbecue opened its first store in 1957 and now has 5 locations throughout the Kansas City metro area (Martin City, Overland Park, Freight House, Country Club Plaza, Lee's Summit). They elegantly transformed classic KC barbecue into a more upscale experience without losing its soul.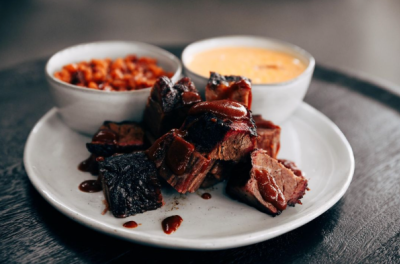 You can't go to or live in Kansas City without going to Arthur Bryant's. It's legendary KC barbecue. They serve slow smoked succulent meat that's splashed with their famous original or rich & spicy sauce (a secret recipe). Arthur Bryant, the King of Ribs, is honored by his restaurant still serving up the country's finest barbecue.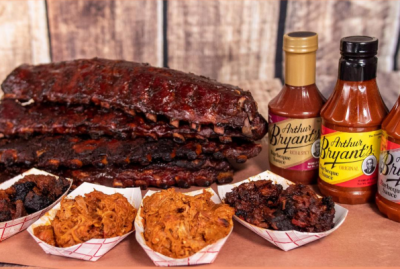 This restaurant is a local favorite for many reasons! Not only is the food simply amazing, but the atmosphere is more than inviting. Don't miss one of the best brunches in both Lee's Summit & KC!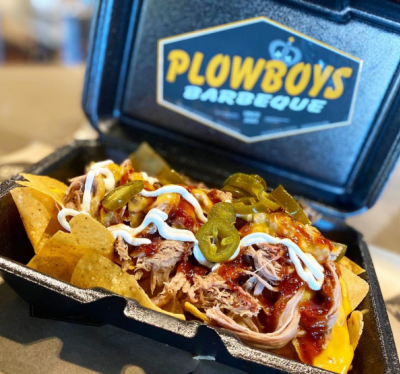 Slap's serves up freshly smoked barbecue daily. They opened back in 2014 with only a couple hundred pounds of meat and sold out within a few hours. They sell out daily because the team is committed to serving only the best. They also compete in 25-30 barbecue competitions throughout the barbecue competition season.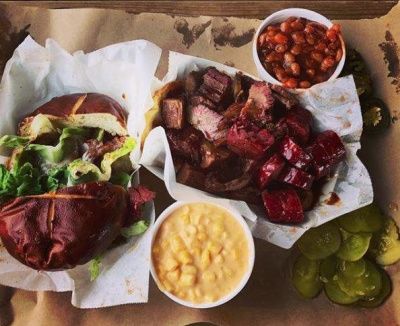 Come enjoy some of Kansas City's best chef-driven barbecue at Q39! They have everything from delicious appetizers to mouth watering entrees. Q39 brings you a unique barbecue experience while maintaining the integrity of what KC barbecue is.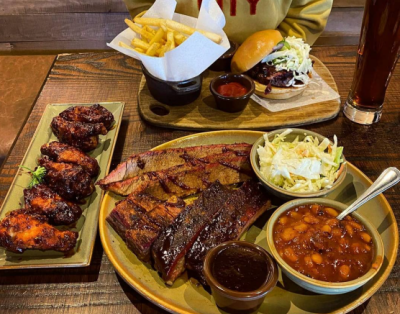 BB's Lawnside BBQ encapsulates everything that is Kansas City barbecue. BB's first opened in 1950, and they still use their very first barbecue pit to smoke all of their meats. Briskets are smoked 14-16 hours and ribs are smoked 10-12 hours. When you come to BB's, you'll get to experience authentic Kansas City barbecue - from the blues music floating throughout the air to the one-of-kind flavor on your plate.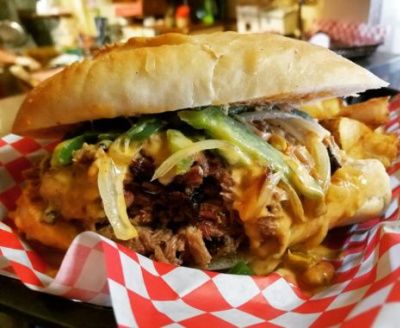 Kansas City has perfected the "low & slow" method of barbecue, and Char Bar honors that tradition and then some. They feature both competition barbecue & award winning sauces. And what pairs perfectly with some mouthwatering barbecue? A nice cold drink! Char Bar has the largest beer garden in town with an outdoor fire, backyard swings, a bocce ball court, ping pong, and other lawn games.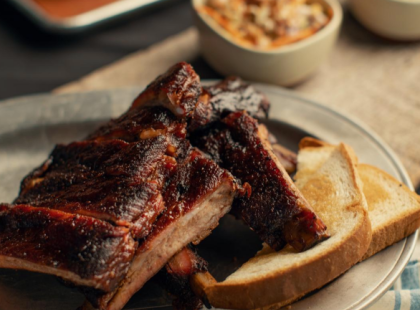 Check out 2 of Kansas City's best barbecue experiences below!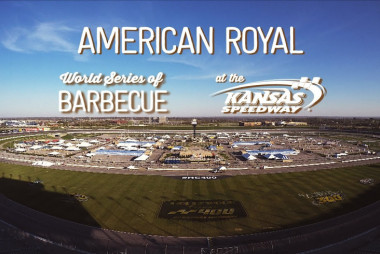 American Royal
The American Royal World Series of Barbecue is an annual weekend barbecue competition (the largest barbecue competition in the world) hosted at the Kansas Speedway. It's the perfect event to hang out with friends & family, sample some of the best barbecue in the world, activities for both adults & children, and listen to live music.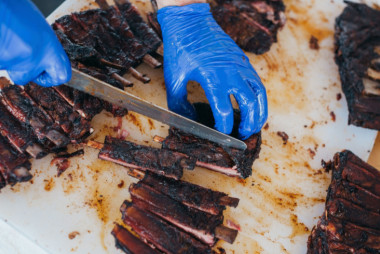 KC BBQ Fest
Arrowhead Stadium is hosting a new festival called the "KC BBQ Fest". The biggest names in BBQ from KC (Joe's, Jones, & Plowboys to name a few) & throughout the country will be in attendance. Not only will there be mouthwatering barbecue, but there will also be live music, beer, demonstrations & activities for the whole family!