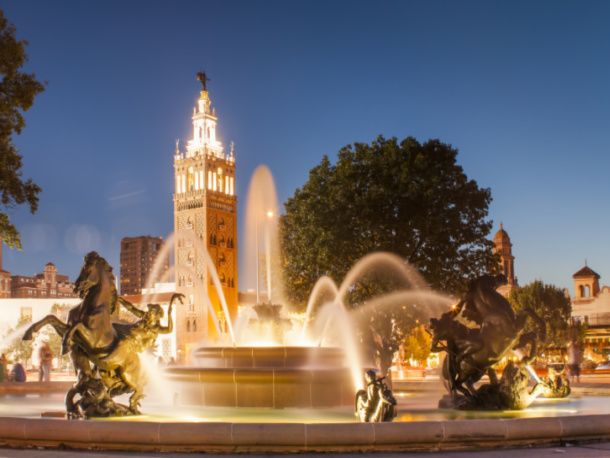 Do You Know Why Kanas City Is Called "The City of Fountains"?
Did you know that Kansas City has over 200 fountains, 48 of which are publicly owned. The inspiration comes from the city that has the most fountains in the world: Rome. Kansas City native & Hallmark executive Harold Rice took a trip to Rome with his wife and thought "What if we bring this culture of fountains back to Kansas City?" and that is how the City of Fountains was born. Before he founded the City of Fountains Association in 1973, Kansas City already had quite a few fountains, but it was his effort and passion that grew & maintained our current fountains.
In the late 1890's, George Kessler designed Kansas City's first fountain. It had 3 separate levels for horses, dogs and humans to drink water out of. Shortly after, the city began building fountains - each with their own unique style & architecture - to provide its citizens with safe drinking water that didn't have to be shared with dogs & horses.
J.C Nichols was so extremely instrumental in creating the fountains & architecture in Kansas City that one of the most famous fountains was named after him. The J.C. Nicholas fountain was originally built in 1910 by Henry Greber. It was bought & refurbished by the Nichols family, and dedicated to them in 1960. It's said that the 4 horsemen on the fountain represent the 4 rivers of the world (Mississippi, Volga, Seine, and Rhine).
There are many other fountains built in honor of various people, places, and events. The beautiful Firefighter Fountain is located at West 31st & Broadway. It was built to specifically remember 6 firefighters killed in an explosion in 1988. Other memorable & must see fountains include The Liberty Courtyard Fountain in Liberty, MO, the Shirley Helzberg Fountain at Starlight Theatre, and don't forget the fountains at Kauffman Stadium, home of our Kanas City Royals baseball team. Did you know the fountain at Kauffman Stadium is the largest privately funded fountain in the world and measures a whopping 322 feet wide?!
For a full list of the fountains in Kansas City, click here.